Boston Travel Guide!
I was recently selected out of only two stylists in Austin to go to Boston for an exclusive Living Proof Class at their very own Style Lab. I got the chance to go behind the scenes to their actual science lab to see how they make the products, learned special details about each product from the living proof line, a couple trendy updos, and how to do Gisele Bundchens beachy, textured haircut. I'll touch on some interesting facts and show you some behind the scenes footage from their Science Lab!
My boyfriend and I decided to go a couple days early to check out the historic city of Boston. We ate a ton of lobster, and got to see some of the coolest places in the city! I'll share some of our favorite Boston locations with y'all, incase you ever get the chance to go!
Boston Day 1
We had the whole afternoon to explore on our first day in Boston! We started out by walking around Newbury Street, which is about 8 blocks filled with upscale shops, restaurants, and boutiques. The famous Georgetown Cupcake is located here and the cutest Kate Spade ever!
After exploring Newbury street, we went over to the Harbor to have dinner on the water! We went to Legal Harborside, which is located in Boston's Seaport district. There are a few different locations around the city, but this one was our favorite because it was right on the Harbor, so it had a cool view. This location had 3 different floors, floor one with casual seafood dinning, and floor two had more formal dining. We went up to the third floor after dinner which was a rooftop lounge, it was definitely the place to be for young professionals like ourselves. It was a cool atmosphere and was packed!
One of my favorite parts of our trip was the Cheers Bar located on Beacon Hill. I used to always watch the show, so it was cool to go inside and see the bar and grab a drink!
Day Two
This was our only full day in Boston, so we wanted to make the most of it! We started out for Brunch at Island Creek Oyster Bar, which was my absolute favorite restaurant we went to! (we actually went back for dinner a couple nights later!) We got fresh lobster, and the Lobster Bisque!
After brunch, we walked around Beacon Hill, which was a super cute neighborhood with federal style row houses, gaslit streets, and brick sidewalks. It also had cute boutiques and restaurants! We ventured over to the Public Garden, and then we walked the Freedom Trail!
Right next to the Freedom Trail, was Union Oyster House, established in 1826 as the oldest restaurant in America! We got the Clam Chowder, it was delicious!
After a full day of exploring we headed back to Cambridge, where our hotel was located, right next to MIT and Harvard! (We stayed at the Boston Marriott Cambridge and loved it! We had a full view of the city from our room and everything we wanted to see was within a 10 minute Uber ride away!)
Before heading back though, we took a quick stop at Harvard to look around! I would probably recommend taking a guided tour offered by one of the students here if you have the time, it was really confusing to get around the campus.
For dinner we went to the North End, which is Boston's "Little Italy" and is also the city's oldest residential community. The Paul Revere House is located here too! There are tons of restaurants located in this area, and is a super cute part of Boston to check out and walk around. We ate at Taranta, and it was okay. It has great reviews though, so I think it was just an off night.
One of my other favorite parts of the trip was our visit to The Top of the Hub, 360 degree views from 52 floors above the city! It was a great atmosphere, they had my favorite champagne, and we got this cute little desert!
Day 3: Class Time!
After an eventful weekend, I went to my first day of Class at the Living Proof Style Lab! We had a presentation of the entire product line, learned some trendy updos and curling techniques, and a learned the history of the line and chemistry behind it.
Some cool things I learned about Living Proof:
Dr. Bob Langer, a MIT Professor, and biotech inventor, teamed up with other scientists, took a look at the beauty industry and discovered that most products were relying on the same standard ingredients, filled with silicones, and other hair coating ingredients that weren't making a long lasting impact on the hair. They wanted to offer "proof in a bottle" rather than "hope in a bottle." They then teamed up with celebrity hair stylist Ward Stegerhoek and Mitch Derosa who knew womens struggles, behind the chair. "Beauty met brilliant science, and this is where Living Proof was born!"

In almost all of Living Proofs products is a patented molecule, OFPMA. This molecule creates a thin, invisible shield around every hair strand...allowing the hair to get healthier, stronger, balances the flow of moisture in and out of strands, fights humidity, and repels dirt and oil (this is why you can go so long in-between shampoos)

The next patented molecule is PBAE. This molecule creates a micro pattern of thickening dots on every strand, making hair behave like textured, full thick hair.

The cause of flat hair comes down to two words: no friction. The strands are so fine and smooth that they lie flat on top of each other. PBAE creates friction and space between every fine hair, without the damage or baggage of conventional technologies! And these molecules don't break down, even as you run your fingers through your hair, making fullness last all day.

My favorite dry shampoo EVER, PHD Dry Shampoo, took about 5 years to create! This is not a product line that is just out there to make money, they truly care and put their hard work and dedication into each product, even if it takes 5 years!
After class, it was such a nice day! We went to a cute little restaurant with a waterfront view of Boston, called Pier 6 and got a drink, it was like being on a boat!
I was also really lovin' my outfit that day, I took my Kate Spade cross body with me everywhere during our trip, and I got a ton of compliments on my Zara jeans, and Kendra Scott Necklace.
For dinner, we had reservations at a restaurant in the North End I had been dying to try called Mare. We got the Lobster Casserole...it. was. amazing. I think I gained 10 pounds during this meal, but it was worth every calorie, good thing we did a lot of walking.
Day 4: Last Day!
For the last day of class, we got to tour the Science Lab, where all of Living Proof's products are created! And then we got to work on live models, where we learned the textured, long layered Gisele cut! It was such an honor to be chosen for this opportunity with Living Proof!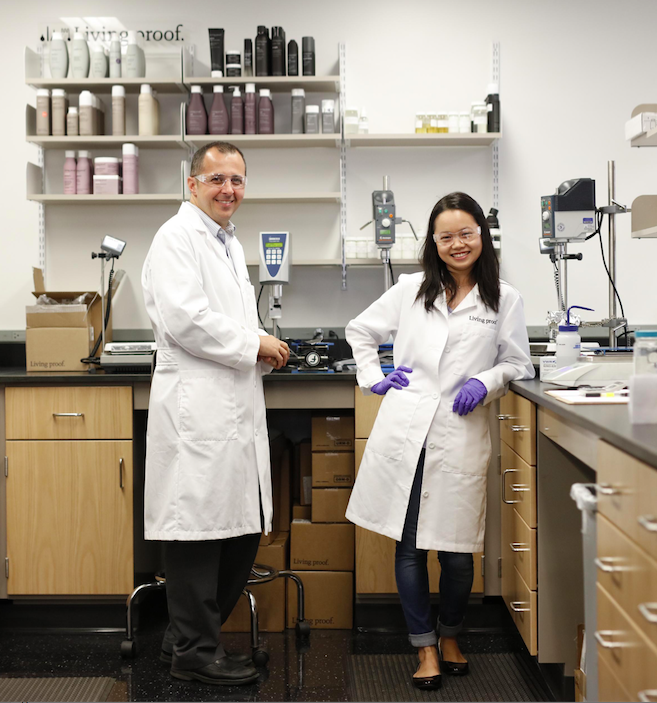 For our last night in Boston we got to go to a Red Sox Game at Fenway Park! It was such a cool experience, and the perfect way to end our trip! We stopped on the way to the game for dinner...and a really, really tall beer at Yard House! Ironically, there is also at Yard House that just opened in the Domain, right next to where we live in Austin! Later that night we went back to Island Creek Oyster Bar to get a Lobster Roll! It was DELICIOUS.
Boston, was such a charming, quaint city! I would highly recommend a trip there if y'all ever get a chance! Don't forget to check out Living Proof, and follow @livingproofinc and my instragram @hairbyallyfeezel for more details about these great products!